See, earlier: SAID IN SPANISH: Angry Africans Stuck In Mexico—Ordinary Mexicans Fed Up
It's a disturbing trend in the worldwide movement of moochers that increasing numbers of Africans are coming to the United States. What's wrong with Europe? It's closer and far more welcoming.
One seriously bad thing about African aliens is there's a billion more where they came from.
Sunday's Los Angeles Times had the usual sob story presentation on the front page with plenty of boo hooey stories of alleged suffering—so predictable.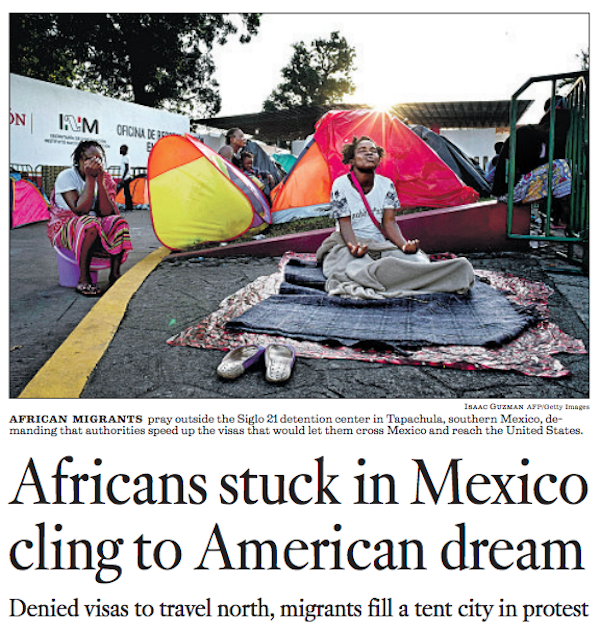 Here's a snapshot from the story, showing a masked man with a cellphone, one of dozens protesting who "demand" visas to travel to the US.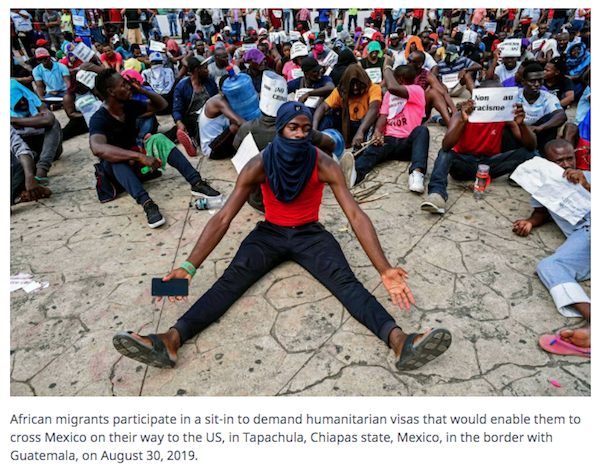 Why can't they fix their own countries? The United States wasn't created great—it took years of work to make it so. But aliens want to walk right in and get a full tray of freebies.
In the text below, note the "record 4,779 migrants from Africa" in the first seven months of 2019, a near quadrupling of the same period last year — this is not the direction we want.
America needs Zero foreigners from anywhere because smart machines will be doing much of the work very soon.
African migrants stuck in southern Mexico, their American dream on hold, Los Angeles Times, September 22, 2018

"Africa weeps. Free us."

That's the message handwritten in French and Spanish on a protest banner at a tent city here in the southernmost tip of Mexico.

The tents belong to some 250 African nationals who crossed jungles, forded rivers, sneaked across borders and dodged militias and thieves to get here in hopes of eventually reaching the United States. But now they are stuck, because Mexico has denied them the travel visas necessary to proceed north.

Mexican national guard troops and riot police keep close watch over the multi-hued camp, where mosquitoes swarm in puddles. Rain and a fetid stream provide cooking water and many complain of rashes, stomach cramps and other ailments.

"We are fed up," said Diop Abou, 33, a native of the northwest African nation of Mauritania. "None of us want to be here in this miserable place."

In the saga of migrants trying to reach the United States, the dominant narrative of late features Central Americans, who account for the vast majority of the 100,000 foreigners whom Mexico has deported this year under pressure from the Trump administration to prevent them from reaching the U.S. border.

But Mexico's effort to accommodate Washington — and avoid tariffs that Trump threatened to impose — has also targeted thousands of other foreigners, including more than 1,000 Africans who have amassed in southern Mexico over the last several months.

The tent city was erected in protest more than a month ago at the entrance of Tapachula's federal immigrant detention center, which is called Siglo 21, or 21st Century.

The lockup is reserved primarily for people awaiting deportation, mostly Central Americans.

Mexican authorities apprehended a record 4,779 migrants from Africa in the first seven months of this year — nearly four times the number detained during the same period in 2018 — but deported only two.

The difficulty is that many African countries have no embassies or consular representatives here, and some of the migrants possess no verifiable identification. And so the majority remain stranded.

Those interviewed here said they fled violence, persecution and poverty, ethnic and religious strife and political repression back in their homelands. (Continues)